Expensive Weddings: It's Time to Break the Trend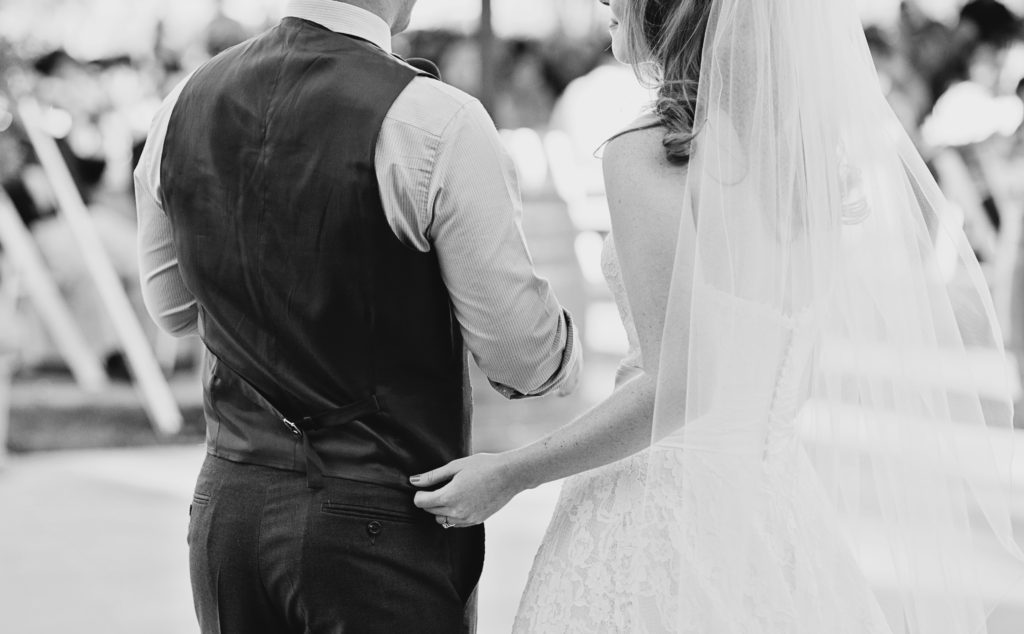 Today, it's not uncommon for a wedding to cost as much as a new car or the down payment on a house.  Unfortunately, most couples can't afford those costs and it either falls on the shoulders of the parents or there is debt involved.  Last year, a report from TheKnot.com showed that in 2014, the average cost of a wedding in America was $31,213.  The area with the highest cost was New York City at $76,328.  The state with the lowest average cost was Utah, which came in at a $15,257 average.  These numbers should be staggering to anyone reading them.
Weddings are just one example of how the world has convinced us to buy into the lie that says the amount of money we spend is a measure of our love.  Just look at spending patterns when it comes to other special occasions.  We tend to ignore costs at the birth of a new baby, birthdays, Christmas and even funerals.  People pushing merchandise only need to tap into our emotions and our budget restraints instantly disappear.  I credit it all to this one fundamental lie that we've come to accept.  I often meet people in serious financial trouble that would rather declare bankruptcy than stop showering the ones they love with presents at every special occasion.  It all goes back to the spending equals love equation.  In many cases, this mentality is a major contributor to their financial problems in the first place.
With this fundamental lie in mind, I want to do something that will probably be unpopular and discuss the issue of expensive weddings.  I assume it will be unpopular because of the depth of influence society already has on us.  I also understand that I'm a man and I have a less emotional view of weddings.  That said, I'm writing this with the approval of my wife and as a father of three daughters, who I hope will grow up with a more biblical than fairytale understanding of weddings and marriage.
Most of what we know of weddings has come to us through culture, not scripture.  While scripture gives us great freedom in our spending, we need to consider biblical principles in our financial decisions.  Ultimately, we will be held accountable for how we use the resources we've been entrusted with to manage for God's glory.  When I see the amounts being spent on weddings, I have to believe there is a lot of money being used for man's glorification rather than God's.
For discussion purposes, I'll break the wedding process down into a few significant parts and ask the questions – Why is it important? and How should I do it?
The Rings
Why?
Rings have become a socially understood symbol of commitment between two individuals and while not necessary, it does serve a worthwhile purpose.  Engagement is the modern form of betrothal and giving the bride-to-be a symbol of that commitment sends her that message along with the rest of the world.  Once the couple is married, rings for both the husband and wife notify others that you are in a permanent relationship and it's not okay to approach either of you with romantic interest.
How?
While the concept of rings is a good idea, I can't say the same for the way society has used it to fulfill materialistic desires and create status symbols.  The value is in the symbolism and any ring can serve that purpose.  I'm reminded of a scene from the movie "The Count of Monte Cristo".  In it, the groom has been working hard to earn enough money to marry his love.  He wants to wait until he can save up to buy an engagement ring, but the woman instead pulls a string from his shirt and wraps it around her finger and says it is all she needs so they can get married right away.  She understood the purpose behind the ring and placed her value on the marriage instead of the symbol that represents it.
There used to be a standard of spending two month's salary on an engagement ring.  That concept makes absolutely no sense and I'm sure if we could trace its origin, we would find that it came from someone looking to profit from the spending.  The only effect your salary should have on the cost of the ring is capping the cost if you want to spend more than you should.  As with all other purchasing decisions, more income shouldn't create more spending.
There are a few things to consider when picking out a ring.  First, each person needs to consider the expectations of the other.  It's an early financial decision for the future couple to wrestle with and it could surface some differences.  If the two are far apart on their expectations, it may provide a good opportunity for further discussions.  Being that the ring is probably something the woman has thought about for a long time, the man needs to seriously consider her expectations.
Second, the choice of a ring needs to be practical.  As a symbol, it's something you want each other to wear all the time.  Picking out a ring that doesn't allow for it to be worn at work, during exercise, etc. would probably not serve its desired purpose very well.
Remember, the price of the ring has nothing to do with the value of the person or the love.
The Wedding Ceremony
Why? 
The goal of a wedding should be to display the Christ-honoring meaning of marriage, the value of the covenant and the importance of the two individuals entering into that union.  Marriage is a gift that represents the relationship between Christ and his bride, the church.  As we read in Ephesians 5:31-32, "'Therefore a man shall leave his father and mother and hold fast to his wife, and the two shall become one flesh.'  This mystery is profound, and I am saying that it refers to Christ and the church."
How? 
If we place the importance of the wedding on Christ, the focus of the event will not be on the flowers, the clothes, the location or the party.  Unfortunately, our secular society has twisted this around and it's often as if the marriage is an after-thought and sometimes Christ didn't make it on the guest list.  When the attention is all focused on the material side of the event, it's no wonder costs get out of control.
There is no positive correlation between the amount of money spent on a wedding and the joy or marital success that follow.  In fact, if two people spend huge amounts of money on a wedding spectacle, it could be a warning sign of spiritual immaturity or of a struggle with materialism, both of which can lead to marital problems down the road if they persist.
The Wedding Party
Why? 
We want our close friends and family to share in our moment as much as possible.  That's why we invite those closest to us to participate in the ceremony.
How? 
It's an honor to be invited to participate in the wedding party.  Unfortunately, there's often a high cost to this privilege.  In this way, the lavishness of your wedding not only affects you, but also those you invite to participate.  Remember, they're already incurring other costs, such as gifts, parties and travel.  You should want them to remember the good things about your wedding, not how much they spent to be in it.
Side note:  In our personal attempt to honor our attendants, we covered the costs for our wedding party.  Funny thing is, they returned the favor when we later switched roles.
The Wedding Reception
Why? 
It's a wonderful thing to be able to celebrate life's big events with the people we love.  A wedding reception is a chance to gather others to celebrate one of our biggest life moments with us.
How? 
There are a lot of different ways to celebrate with our friends and loved ones.  The question goes back to how do we celebrate and at what cost to the new couple.  Is there a reason why wedding receptions have to take place in the most expensive locations and with expensive food and drink provided to all the guests?  Remember, guests are there to celebrate with the new couple and most newlyweds aren't in a position to treat hundreds of others to a first-class feast.  In any other circumstance, we would just consider this to be foolish spending.
Instead of spending all that money on the celebration, should it instead be used for purposes that better serve this new marriage?  Does one day of excitement really carry more value than years of financial stability and reduced stress in the marriage?  Wouldn't we consider it more wise to use that money for the honeymoon together, for a down payment on a home, to pay off existing debt or to build a financial foundation and prevent future stress in the relationship?
As I think about the idea of spending so much money on a single, fleeting moment of celebration, the following two verses come to mind:
Luke 8:14 – In the description of the seed that fell among the thorns, "They are choked by the cares and riches and pleasures of life."
Matthew 6:25 – "Therefore I tell you, do not be anxious about your life, what you will eat or what you will drink, nor about your body, what you will put on. Is not life more than food, and the body more than clothing?"
The reason for the celebration is a worthy one, but the way in which we celebrate has continued to drift in a way that has gotten out of hand in many cases.  Lavish wedding receptions take the attention away from what truly holds value.
My Personal Experience
My wife and I got married 17 years ago and we certainly didn't do everything right.  We tried to keep things simple and did a pretty good job of that, but there would be things I'd change if I could go back and do it all over again.  We tried to keep the experience true to ourselves and not to societal pressures, but I can still point to times when I gave in to the expectations of others.  As I look back, here are the fond memories I have of that day:
Being an usher along with my groomsmen and visiting with our guests as they arrived.
Exchanging rings privately after the ceremony was over while everyone else started the reception.
Not having a head table and jumping around to sit and enjoy time with our guests.
My mom surprising me with a groom's cake she personally made.
Serving a piece of my groom's cake to a dear elderly client of mine and watching her enjoy it.
Our wedding was beautiful, but probably not in the way the world would envision a beautiful wedding.  It was beautiful because it was a joyful day spent with my new bride and our loved ones and Christ was at the center of it all.  The wedding wasn't the climax of our marriage.  It was only the beginning of the great things to come and for that I'm thankful.
Conclusion
The Christian community needs to be setting the stage for simplicity in weddings.  It takes bold confidence and courage to stand against the culture.  This is where parents, friends and churches can help our young couples.  Together, we can more easily stand against societal pressures.  Those that are willing to take that stand will be rewarded immediately with a reduction of stress and chaos as the wedding day approaches and with joyful memories and financial reward after the day is past.
My advice is to be true to yourself.  Avoid complexity that only adds stress to an already busy day.  Spend your money on the things that matter to you.  The party will come and go, but your marriage and your relationships are the things that will be around long after your wedding day is over.
Please share your comments and personal stories.
Brad Graber, CFP® has been working with clients on personal financial planning and investment issues since 1996.  He invests his time mentoring and educating individuals on ways to be better stewards of the resources God has entrusted to them.