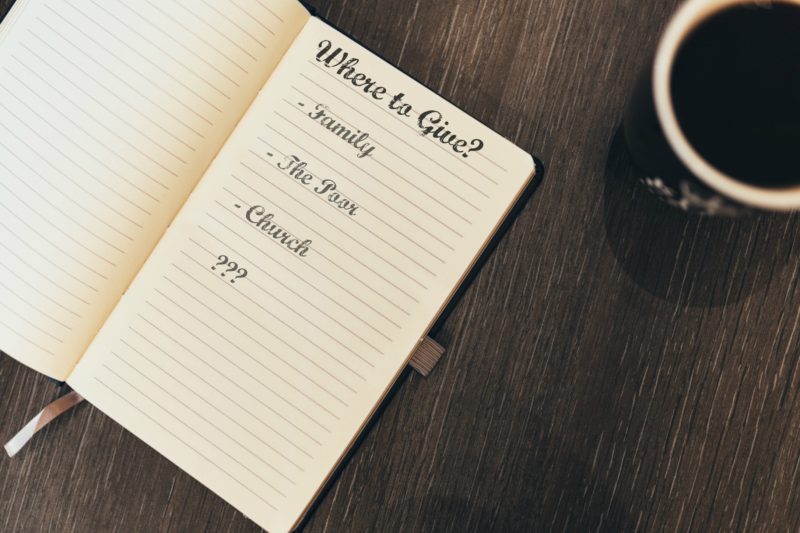 Once you've wrestled with the question of whether or not you should give and come to the conclusion that you should in fact be giving, the decision making process isn't over.  You'll instantly be presented with a seemingly endless number of worthy options that are more than eager to accept your money.  As Christians, we want to be faithful stewards of the money entrusted to us and see it put to good use.  A good starting point is to consider the priorities laid out for us in scripture.
We can sum up the biblical instructions for our giving into two basic categories, obligations and opportunities.  Just as you would expect from those titles, we first need to fulfill our obligations before moving on to supporting opportunities.
Obligations
Scripture lays out three obligations for our giving.
1.       Family – In 1 Timothy 5:8, Paul says, "But if anyone does not provide for his relatives, and especially for members of his household, he has denied the faith and is worse than an unbeliever."  This is a pretty strong statement made by Paul.  It would seem that providing for our family is our most basic responsibility.
In 1 Timothy 5, Paul is specifically addressing the issue of caring for widows, but that principle can be used to help us understand how we provide for family in general that isn't able to provide for themselves.  This category of person does not include those who could provide for themselves, but choose not to do so.
1 Timothy 5:4 – "But if a widow has children or grandchildren, let them first learn to show godliness to their own household and to make some return to their parents, for this is pleasing in the sight of God." 
The concept of providing for our family ties in directly with the fifth commandment to "honor your father and your mother".  What better way to honor them than to care for them in times of need?
This idea of being responsible for the needs of family is also very applicable when it comes to the role of the church in caring for the needs of members.  Family is first in line to care for needs.  The church's response should be to first look to family to meet needs and only if there is no family or if family is not willing, then the church should step in and provide assistance.
The importance of providing for our family was firmly cemented by Jesus on the cross. 
John 19:26-27 – "When Jesus saw his mother and the disciple whom he loved standing nearby, he said to his mother, "Woman, behold, your son!"  Then he said to the disciple, "Behold, your mother!" And from that hour the disciple took her to his own home."  
Jesus didn't say many things on the cross, but He chose to speak to Mary and John at that moment, which shows us the importance of this statement.  At this time in her life, Mary is already a widow and with Jesus nearing his death, it was a priority for Him to ensure she would be cared for.  While she had other sons, up to the crucifixion we are not told that Jesus' brothers were believers.  John is understood to be a nephew of Mary through his mother, Salome, Mary's sister.  While even unbelieving family members would likely take care of Mary, Jesus made a point to entrust the care of his mother to a believing family member He knew would complete the job.  We should fulfill our duty as family members just the same.
2.       The Poor – The Bible is consistent throughout on the importance of caring for the poor.  As we just read, this primary responsibility falls onto the family, but then extends to the family of the local church.  However, our duty to the poor extends beyond the doors of the church.  Here is a sampling of a few verses that stress our role in the process:
Proverbs 28:27 – "Whoever gives to the poor will not want, but he who hides his eyes will get many a curse."
Psalm 41:1 – "Blessed is the one who considers the poor!"
1 John 3:17 – "But if anyone has the world's goods and sees his brother in need, yet closes his heart against him, how does God's love abide in him?"
James 2:15-16 – "If a brother or sister is poorly clothed and lacking in daily food, and one of you says to them, "Go in peace, be warmed and filled," without giving them the things needed for the body, what good is that?"
The idea of caring for the poor is a fundamental teaching in the New Testament.  It is probably stressed so much because it aligns with the character of God.  Consider James 2:5, which says, "has not God chosen those who are poor in the world to be rich in faith and heirs of the kingdom, which he has promised to those who love him?"
At the end of Matthew 25, we even see a picture of judgement and the king separates the sheep from the goats.  We read in verses 41-43, "Then he will say to those on his left, 'Depart from me, you cursed, into the eternal fire prepared for the devil and his angels.  For I was hungry and you gave me no food, I was thirsty and you gave me no drink, I was a stranger and you did not welcome me, naked and you did not clothe me, sick and in prison and you did not visit me.'"  The care for the poor is so serious in God's eyes that we see here the eternal condemnation of those who didn't do it.
Consider the following quote from David Platt – "God measures the integrity of our faith by our concern for the poor."  How does our faith stand up to such a test?
For an more insight into helping the poor, consider reading Kevin DeYoung's article "Obligation, Stewardship, and the Poor".
3.       Your Church – While some think the church asks for money simply out of greed, nothing should be farther from the truth.  In fact, our giving to the church is a fundamental responsibility that we have.
Galatians 6:6 (NIV) – "The one who receives instruction in the word must share all good things with their instructor."
1 Corinthians 9:9-11, 13-14 – "For it is written in the Law of Moses, 'You shall not muzzle an ox when it treads out the grain.' Is it for oxen that God is concerned? Does he not certainly speak for our sake? It was written for our sake, because the plowman should plow in hope and the thresher thresh in hope of sharing in the crop. If we have sown spiritual things among you, is it too much if we reap material things from you? …. Do you not know that those who are employed in the temple service get their food from the temple, and those who serve at the altar share in the sacrificial offerings?  In the same way, the Lord commanded that those who proclaim the gospel should get their living by the gospel."
In the Old Testament, we saw the Israelites commanded to give a tithe to the Levites, who were the spiritual leaders of the nation and responsible for teaching God's people.  We see the same philosophy being extended to those who make their living teaching the gospel today.  We are commanded to provide for our pastors so they can in return teach us.  It's a two way street.  I'm responsible to help provide for my teachers and in return, they are accountable for my spiritual well-being.
So, we can see from scripture that we have obligations to provide for family, the poor and our teachers.  Since these are commands that we find in scripture, we need to make sure we're fulfilling those duties first.  It is only once we've met these obligations that we can then consider other opportunities.
Opportunities
Outside of the commands listed above, the other examples of giving that we see in the Bible and encounter in our daily lives would fall into the classification of opportunities.  In 2 Corinthians 8, Paul didn't command the Corinthians to give to the struggling churches in Judea.  When presented with the same opportunity, the poverty laden churches in Macedonia were so excited to participate that they begged to be able to take part in supporting the Judean churches.
There are a lot of worthy ministries doing great work and it's wonderful to be able to support them.  We just need to make sure we're prioritizing our giving properly though and fulfilling our own responsibilities before casting our offerings to outside opportunities.
On a side note, I'm often asked if it's okay for a Christian to give to a secular non-profit organization.  This would obviously fall into the opportunity column, so we can start by putting it in its proper place.  Assuming obligations have been met, my general reaction is to suggest the person research to see if there is a Christian organization meeting the same need.  If I can support the same work, but know the gospel is also being presented, I would consider the Christian organization to be the wiser choice.  Why just feed the hungry when I can help feed them and deliver the gospel at the same time?
Conclusion
We should prioritize our giving according to scripture by providing for our family, helping the poor and supporting our teachers.  Once we've fulfilled our obligations and still find ourselves with money we don't need, we should continue to be a faithful steward and manage God's resources to the best of our ability.  That could be through giving more money to our church or another faithful ministry.  It could also be through using money to invest in new or existing relationships.  We have been given freedom to choose how we allocate that money.  However, a faithful steward will always stay focused on the glorification of God and long to eventually hear the words "well done, good and faithful servant" on the day they give an account.
Brad Graber, CFP® has been working with clients on personal financial planning and investment issues since 1996.  He invests his time mentoring and educating individuals on ways to be better stewards of the resources God has entrusted to them.